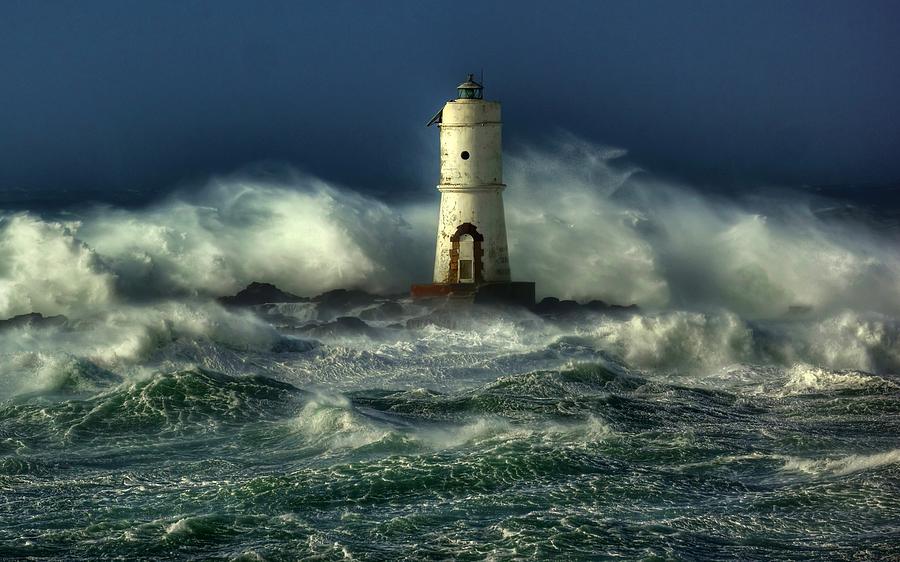 I have been thinking of lighthouses, as I am very fond of them. I came across new information about some local ones, and even found a web site (courtesy of some lighthouse articles) which is excellent for all of North America. https://www.lighthousefriends.com/index.html
So, I will share a lighthouse story which is part of one of my novels. It is a fictitious lighthouse, but the story has roots (as so many tales do) in reality.
Excerpt from: He Lives In The City / He Drives To The Country
"Well, Blaine, the place is as sturdy as the rock it's on. Government inspected every spring. We even sat pretty through the Great Groundhog Day Gale in 1976, the worst storm in over a hundred years."
     Fred Gannet nudged Blaine to the huge windows. He pointed into the distance, although neither could see through the fog.
     "Waves forty feet smashed up against us. We clocked winds at one hundred and thirty-seven miles an hour. We had the warning, so we got most of this battened down. Turned over my van, but I had it far from the cliff. Smashed out a window in the living room. I had a bitch of a time getting plywood over it. Lost power and phone of course, but everything here can run on emergency generator. And part of the roof lifted, but it didn't do that much damage." He jabbed his finger at the rain spattered windows. "This is a baby compared to that whore." 
     He gave a whoop of a laugh, and took off his cap. 
     "Old George Crenshaw, he's the keep on Goat Island, a mile square drop of nothing about eight miles further out to sea. Well, he took the brunt of that bitch, and we were all sure he was a goner. For hours after it passed, there was no boats could get through the waves, or helicopters through the wind. Even the radios were gone, and no one had talked to the old bugger for twelve hours. 
     "We kept trying and trying, and finally I heard his call letters, but real faint like. I turn my juice 'til the needle's in the red, and I'm yelling, to find out how he is. You know the first thing any of us hear that old son of a bitch say?"    
     The large man's body was actually shaking with laughter, something Blaine had rarely seen in anyone. 
     "Old George's thin voice comes out of the radio, like a fart out of a ghost, and he says: `Well, boys, that was quite a breeze'." 
     Blaine started to laugh as hard as the other man, who was now wiping his eyes with the cap he had in his hands. 
     "His place was a wreck. He had no heat, no power, there was three feet of water in his bedroom, and they even found a crack at the base of the tower. That crazy old guy had hand-cranked the generator on and off for ten hours to keep some light going. Jeez, Blaine, they don't make them like that anymore."
(Image) https://images.fineartamerica.com/images-medium-large-5/lighthouse-in-the-storm-simple-beauty.jpg