"So, is that a gun in your holster? Ain't ya glad to see me?"
"Lookin' for a book!"
"What book?"
"Doesn't matter – all I want to do is shoot it."
"Shoot it?"
"And any bastard unAmerican enough to read it."
"UnAmerican?"
"If he can read he ain't a real American."
"But you're in a book store."
"Yeh – well, we'll soon be burning all those down."
"You're going to torch bookstores?"
"They're full of Commie/leftwing/socialist/wetback/baby-killin' Christ-killers. They get it from books."
"Books?"
"And readin'."
"Reading?"
"Jesus never read a book."
{As if I could ever make this stuff up.}
DE
~~~~~~~~~~~~~~~~~~~~~~~~~~~~~~~~~~~~
Bookshop's prices shot down 10% for customers openly carrying guns
Brave New Books in Austin is celebrating relaxation of Texas laws by offering a discount to shoppers who 'open carry'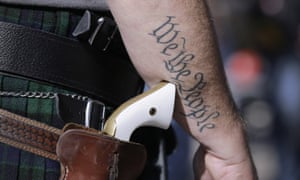 A bookshop in Texas is offering a 10% discount to customers who are legally "open carrying" a handgun while shopping for new reading material.
Brave New Books, which says it stocks a mix of "conspiracy, economic policy, history, and politics" books, as well as "selections about sustainability, survival [and] preparedness", made the announcement in late January. It follows the loosening of gun restrictions in Texas at the start of the year, allowing the visible carrying of handguns.
"Brave New Books is the only open carry friendly bookstore in Austin TX and now we have a special promotion where we are offering 10% off all purchases when legally open carrying a handgun. Be sure to recognise the four firearms rules while at Brave," wrote the store on Facebook.
Brave New Books, which describes itself as "anti-war, anti-state and pro-market", also hosted an "open carry and firearms freedom symposium" last weekend to answer questions about the legislation. "We'll here [sic] from owner of Central Texas Gun Works, Michael Cargill. We'll take part in a firearms safety course from our good friend Stephen Sheftall. And we will hear from a panel of gun rights activists about the latest in the fight for firearms freedom in Texas," the shop wrote. "And for a limited time only if you come in to Brave New Books safely open carrying a firearm, you can get 10% off anything in the store! That's right. We want to celebrate your decision to take security in to your own hands by giving you 10% off any product in the store for safely open carrying your firearm."
General manager John Bush told KVUE: "We appreciate it when people take security and defence into their own hands. In a world where mass shootings are happening more and more, when seconds count, it's up to we the people to protect our community."
Other bookshops in the city have taken a different approach, said KVUE: Half-Price Books and Book People have both said no to customers open carrying in their stores. But publisher Melville House, on its blog MobyLives, speculated that Brave New Books's move looked less like a "political stand" than a "canny marketing stunt that preaches to the converted".
(more) http://www.theguardian.com/books/2016/feb/05/bookshops-prices-down-10-for-open-carry-customers-brave-new-books-austin?utm_source=Publishers+Weekly&utm_campaign=6e94b9083b-UA-15906914-1&utm_medium=email&utm_term=0_0bb2959cbb-6e94b9083b-304601505