(From Der Process by Franz Kafka)
Much keeps being made about Franz Kafka telling his best friend, Max Brod, to burn all of his (Kafka's) manuscripts, and that Max did not do it. What keeps being overlooked is that Kafka made this request three or more times, and each time Max told him outright that he would not do it.
Kafka asked a person whom he knew would not burn his manuscripts to burn his manuscripts. That is a perfect encapsulation of Kafka. He could justify to himself that he tried. He made the effort.
Had he wanted them all burned, he would have done it himself.
So, now, some remaining manuscripts of Kafka have ended their own trial, and will be made available.
Brod estimated that Kafka actually did burn about 80% of all his own manuscripts. In my novel, Kafka In The Castle, I have described such an incident, based on secondary sources. It follows the current News article about Kafka's manuscripts.
DE
~~~~~~~~~~~~~~~~~~~~~~~~~~~~~~~~~~~~~~~~~~~~~~~
Franz Kafka literary legal battle ends as Israel's high court rules in favor of library
Country's supreme court rules manuscripts are the national library's property
Estate's heirs must hand over documents, which include unpublished writings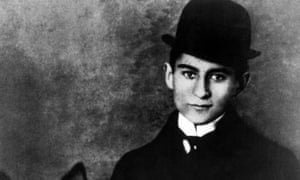 The nation's top court on Sunday rejected an appeal by the heirs of Max Brod, a friend of Kafka and the executor of his estate to whom he had willed his manuscripts after his death in 1924.
Kafka had instructed Brod to burn the manuscripts after his death but his friend did not honor that request and took them with him when he fled the Nazi invasion of Czechoslovakia in 1939 and emigrated to Palestine.
On his death in 1968, Brod bequeathed the papers to his secretary Esther Hoffe, with instructions to give them to the "Hebrew University of Jerusalem, the municipal library in Tel Aviv or another organization in Israel or abroad".
But Hoffe, who died in 2007, instead kept them and shared them between her two daughters – sparking multiple legal battles.
In the trial against Hoffe's heirs, which began in 2009, the state of Israel demanded they hand over all the documents, which included unpublished writings, arguing it was Brod's last will.
Hoffe's daughters refused, however, saying the papers – estimated to be worth millions of dollars – had been given to their mother by Brod and therefore she could dispose of them any way she wanted.
In its ruling, the supreme court said: "Max Brod did not want his property to be sold at the best price, but for them to find an appropriate place in a literary and cultural institution."
Hoffe had during her lifetime sold the original manuscript of The Trial –considered by some to be one of Kafka's best works – for $2m.
The Hoffe family kept the bulk of the collection locked away in bank safety deposit boxes in Israel and Switzerland and over the years sold some papers to collectors.
https://www.theguardian.com/books/2016/aug/08/franz-kafka-papers-israel-court-ruling
++++++++++++++++++++++++++++++++++++++
Excerpt from: Kafka In The Castle
18 April 1917
Max occasionally tells me that my writing makes a mockery of real life. But I find that the life which surrounds me  – which I wade through every day – makes a mockery of anything I can write. What place do my awkward dreams and petulant hopes have in this real world. "Do they keep me warm?" as my father asks. Father would have been happy – if far from understanding – had he been watching me this past hour. I wedded both worlds through flame. Passion enough for me, and heat enough for him.
On this abrupt cold day, in this chilled, unwelcoming house. I opened the empty, blackened stove, and prepared to make a fire. I read too many newspapers, so their pages were abundant. All this vague war news, getting more vague, and pointing only to disaster. A match struck against the side of the stove, and the war news erupted. A fitting end. Then, since I'm not allowed into their war so my flesh can perish, my other life could at least enter the inferno.
I took a pile of manuscripts from the chair and placed them into the flame. Page by page. Words and sentences marching. I didn't even look to see what they were. Which characters vanished. Which actions ceased. All equal to me, and all equal to the flames. Some of the pages were older work, which I carry from house to house with the intent of making better. This time I succeeded. Other pages were created in this tiny house, where there are too many eyes at the windows, and too many years caught in the dust. They followed into the fire, sometimes by the handful.
And now, I ponder over these pages beneath my fingers. However, there is new wood within the stove, and for the moment, the heat sustains me.
19 April 1917
Max was horrified when I told him about last night. "You burned your stories? Are you crazy?"  "I wrote them, so I must be."  He smiled at that. Max's anger can be easily deflected, for it is never deep. Max is a very good man, and cares for me more than I do myself. "And the novel? The Amerika novel?" I told him that many chapters of that must have been burned. Probably right from the start – they were no doubt the first things I grabbed from the chair.  "Anything else?"  "There were a couple of plays. I remember pages of dialogue."
Max's voice became hollow. He might no longer be angry, but neither was he happy. "I didn't know you had written any plays. You have secrets even from me."  "I keep secrets from myself. Don't be offended."  "What else?"  I could picture him writing down an inventory. "Some diary entries – those were deliberate."  "And was that the end of your pyromaniacal obsession?"  "Of my own work – yes." He looked at me questioningly – he didn't need another secret. "There were a couple of bundles of letters from Felice. Neatly tied with string. They burned slowly. I have not had such warmth from her for a long time."